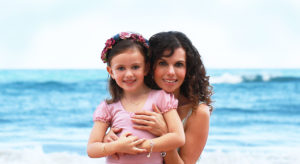 Welcome to 'Beautiful Moments" by Elka.
"Beautiful Moments" is a unique line of personalised jewellery manufactured in silver and gold, here on the Rock of Gibraltar by the long established jewellers "The Jewel Box".
I am a professionally trained and qualified jeweller, designer, gemmologist and diamond grader, having completed my studies both in the U.K. and Antwerp.
My passion is for the arts, I love to draw and paint, I have always danced and I am also a passionate photographer. Yet design has always been where I felt I could excel. It comes very naturally to me and ideas and concepts flow and develop seamlessly. I have worked for many years in our jewellery workshop alongside my father, who has helped me extend my list of skills under his watchful and expert eye.
My mother, Rosana Olivares founded the Jewel Box when we were very young and alongside my two sisters Ana-Lisa and Christina we continue to work very hard, so that the business continues to grow and thrive.
We pride ourselves in being a small business with a great attention to our customers. From exquisite certified diamonds, to beautiful gold jewellery, and stylish silver pieces, we focus on our clients needs, and understand the importance of carefully guiding them through the process of selecting with care that special item of jewellery that is precious in so many ways.
I see the launch of the 'Beautiful Moments' line as an expansion of the Jewel Box into manufacturing. I have wanted to do something like this now for many years and by combining the use of the very latest Italian technology with traditional jewellery techniques I feel we are able to offer unique and special Jewellery. Jewellery design and manufacture is a continual and evolving process and with the introduction of the "Beautiful Moments " line we are at the forefront of new manufacturing technology here in Gibraltar.
The name 'Beautiful Moments' comes from my love of photography. I love capturing and framing precious moments and saving them forever. As a dedicated wife and mother of four it is the family occasions and every day special moments that I treasure the most. I wanted to translate this into items of jewellery. Precious keepsakes that we can always wear that will always remind us of that 'Beautiful Moment.' Phrases and engravings that define that special sentiment, friendship or enduring love.
Just out this Autumn is our latest collection, 'The True You Collection'. I am a firm believer in being true to yourself and following your own path. This line of jewellery is diverse and allows you to choose and customise your jewellery to reflect your taste and what is important to you.
We proudly expand our 'Made in Gibraltar' Jewellery line, with hard work, passion and the amazing help of a wonderful team. I feel that we have made good and steady progress in the past year and look forward to another exciting year.
Thank you,
Elka Salmon.
(Jewellery Designer, Gemmologist and Manufacturer at the Jewel Box.)